Join us for the 2021 edition of the BMAS summer school
September 6-8th The Bone Marrow Adiposity Society presents the first virtual event designed for trainees and young investigators.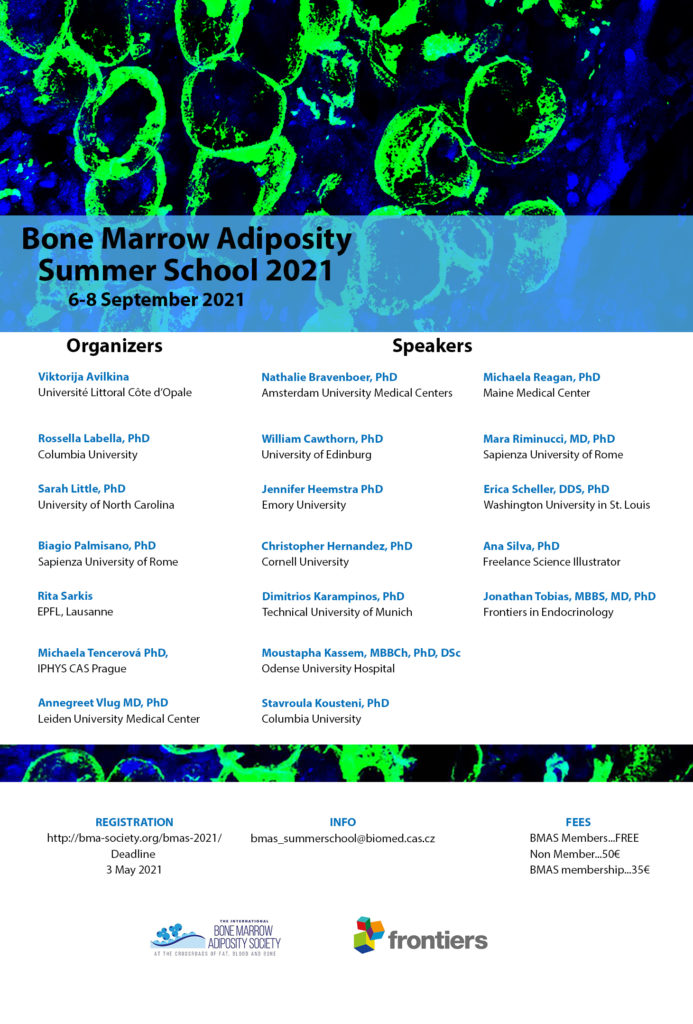 Why choosing this Summer School?
The International Bone Marrow Adiposity Society (BMAS) represents an interdisciplinary approach in studying bone marrow adipocytes and their influence on systemic metabolic homeostasis. BMAS consists of a worldwide network of excellent research scientists collaborating to achieve breakthrough results in Bone Marrow Adiposity (BMA) research.
This Summer School will not only provide informative lectures on the topic of BMA from experts in this field, but will focus on career development and skills required to succeed in and outside academia. Additionally, participants will have the opportunity to broaden their professional network and share their personal knowledge and past experiences.
During three half days of the interactive Program participants will be provided with lectures on key topics, followed by engaging discussion. The scientific programme will cover the basis of Bone Marrow Adipose Tissue (BMAT) origin and function and expand this topic to BMAT involvement in metabolism and bone disease.
A central part of the Summer School focuses on workshops and career development seminars. We will provide workshops on scientific skill improvement and standard methodologies in the BMA field. Career development talks will focus on academic and non-academic career progression, academic writing and the grant application process, and the initiation of collaborations.
We invite students and early career researchers with an interest in BMA research and scientists tackling transition stages in their careers. We also welcome scientists considering moving into the BMA field, as this Summer School will provide comprehensive information on the basics of BMAT.
The maximum number of the participants will be restricted to 50 people.
After attending all the lectures and seminars, participants will receive a certificate of attendance.
Download the application form here. To apply you should fill all fields required, providing:
Abstract (Submissions will be considered for poster presentation)
– Bone Marrow Adiposity-related studies
– Instruction for abstract submission: Title, Authors, Affiliation, Abstract body (max 300 words), Key words (max 5 words)
Motivation letter describing:
– Your career stage (PhD student, Postdoctoral researcher)
– Brief description of your project and highlights of your carrier
– How the summer school will help you to achieve your career goals.
Send the form with all the information to bmas_summerschool@biomed.cas.cz
We will leave few places for participants that are not currently working in the BMA field; for them we will only ask for the motivation letter submission.
Thanks to our sponsor Frontiers, the abstract selected for the summer school will be published online. If you do not want to publish your abstract, please make sure to select the option during registration.
Applications will be evaluated by the BMAS Scientific board based on:
Scientific quality of the poster abstract

Motivation letter to attend the BMAS Summer School
Due to the pandemic the summer school will be held online.
BMAS Summer School is FREE of charge for BMAS members (BMAS 1 year membership 35€, to join click here). For non-members registration fee is 50€. 
Submit your abstract and motivation letter without any fee! Once you receive the notification of acceptance, you need to finalize the registration within 2 weeks either by joining BMAS as a member or submitting a fee of 50€.
The  payment will by bank transfer please transfer the amount of €50, to:
BMAS, C/O Department of Biomedical Sciences, Group Naveiras
Rue du Bugnon 27; 
Universite de Lausanne
1011 Lausanne, Switzerland 
Account:
CH7400767000 E54391358 (Banque Cantonale Vaudoise)
SWIFT/BIC: BCVLCH2LXXX
Please mention your name and "Registration BMAS SS 2021"
Opening dates for applications: 28 February 2021

Closing date for applications: 3 May 2021

Acceptance notification: 31 May 2021
Many thanks to our Sponsor