You are invited to join BMAS and to take part in its activities, such as our active Working Groups and our collaborative, interdisciplinary networks.
BMA2020:
Abstract submission for BMA2020 in Seattle, USA, will open in March 2020. Further details can be found on the BMA2020 website.
BoneAHEAD (Bone Adiposity in HEAlth and Diseases):

BMAS members have forged a cross-European multidisciplinary collaboration, BoneAHEAD, to reveal new knowledge about the formation and functions of bone marrow adipose tissue (BMAT).
To address this goal, in January 2020 the BoneAHEAD team submitted an application for an ERC Innovative Training Network (ITN) grant. This proposal aims to train 15 young specialists in institutions across Europe to build a leading-edge knowledge hub to establish this new and important field of research. The early-stage researchers will benefit from the combined expertise of the whole consortium and develop a unique and transferable background in musculoskeletal biology and a broad profile as researchers and science communicators that will increase their attractiveness for future employers. The European Community will benefit from this integrated approach, which enables the rapid progression of basic science towards innovative therapeutic concepts, through training of new researchers and the dissemination of knowledge.
Members of BoneAHEAD come from diverse disciplines across both academic and non-academic sectors. The full team of beneficiaries is as follows:
Tim J. Schulz (German Institute of Human Nutrition, Germany)
Claire Edwards (University of Oxford, UK)
Christophe Chauveau (Université du Littoral Côte d'Opale, France)
Bernard Cortet (University of Lille, France)
Bram van der Eerden (Erasmus Medical Centre, The Netherlands)
William Cawthorn (University of Edinburgh, UK)
Eleni Douni (Biomedical Sciences Research Center "ALEXANDER FLEMING", Greece)
Antonella Poloni (Università Politecnica delle Marche, Italy)
Aline Bozec (Universitätsklinikum Erlangen, Germany)
Matthias Hackl (TamiRNA, Austria)
Natascha Schweighofer (Centre for Biomarker Research in Medicine, Austria).
Greet Kerckhofs (Université Catholique de Louvain, Belgium)
Partner organisations include Bruker MicroCT (Belgium), ASCEO (France), The European Calcified Tissue Society (UK), Sequentia Biotech SL (Spain), MS-Omics (Denmark), The University of Nat. Res. Life Sciences (Austria), The Medical University of Graz (Austria), Aurexel (Finland), the Agricultural University of Athens (Greece), Charité – Universitätsmedizin Berlin (Germany), Ascenion (Germany), RI-Systems (Switzerland), and the University of Potsdam (Germany).


A major goal of BMAS is to bring together diverse researchers and other stakeholders to reveal new knowledge of BMAT. Therefore, we are delighted to see the establishment of this multidisciplinary, international network!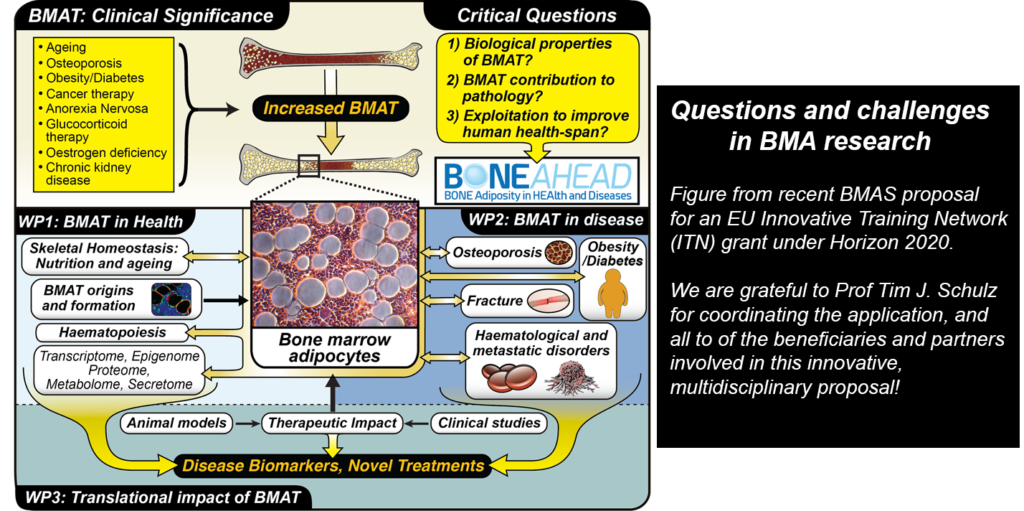 Other opportunities:
Please do not hesitate to send us details of any funding opportunities that you are aware of (using the "contact us" link). BMAS members include collaborative experts from diverse fields of research and who have strong track records in research funding. If you are looking for partners for your funding proposals then please get in touch!